Meet the Staff – Doorstep Homeless Families Project

---
Doorstep Homeless Families Project
London, United Kingdom
---
Meet the Staff
Director: Vicky Fox
Vicky has worked at Doorstep for 25 years and worked with children and families for 10 years previous to joining Doorstep.
Contact Vicky
Children's Workers-Sarah Lough & Ebanie Kajue
Volunteers: Kiki,Valbona, Fijolla, Mel, teachers & high school students from The Amercan School in London
Our volunteers help run Doorstep's day to day services. Kiki, Fijolla and Valbona are all ex-service users of Doorstep who wanted to give something back. We also have 2 teachers and approximately 10 high school students from the American School in London who give their time to run an after school session twice per week.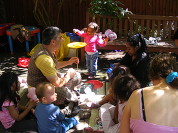 ---
Registered Charity No. 1007692
www.doorsteplondon.org
Welcome
About Doorstep
News & Events
Our Work
Meet the Staff
Feedback from our
Donations
Contact Us
Annual Report 2012-2013
Annual Report 2013-2014
You are viewing the text version of this site.
To view the full version please install the Adobe Flash Player and ensure your web browser has JavaScript enabled.
Need help? check the requirements page.